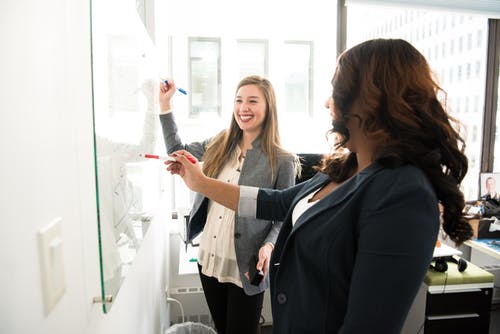 Employers have a strong entrepreneurial commitment to their organization, which motivates them to work harder every day. However, a company cannot expect the same level of commitment from their employees, too.
Although every organization tries multiple methods to motivate its employees including on-time salary, flexible work hours, etc. Unfortunately, all these ways are just outdated now. Hence, start thinking out of the box to motivate your employees.
Encourage Employees to Be Regular
Creating a Friendly Work Atmosphere
An employee spends 1/3rd of a day working in the office. Hence, companies should try to build a friendly and engaging work environment for them. A pleasant atmosphere that is comfortable and welcoming will increase eagerness in employees to go to work daily.
Acknowledging Employees Achievement
"A person who feels appreciated will always do more than what is expected!"
Having said that every employee wants to be appreciated for something they have put their 100% effort into. It is really motivating when a superordinate acknowledges a work done by an employee. However, most companies just overlook this point.
Today, companies also have an excellent option to practice this point easily. Just type "HR and payroll management software", click search and there you go!! Such software help to appreciate employees by badging them and showering reward coins. This will not only keep the employees happy but also save a lot of time for HR managers.
Hence, remember to give credit if it is due!!!
Rewarding Employees
Sometimes a pat on the back is just not enough. Several studies have found that rewards engage employees. May it be a simple incentive or an extra day off, companies should start prioritizing rewarding their employees. This will keep them satisfied and motivated at the same time.
Also to build a rewarding employee experience, " first understand what really matters to them and then reward accordingly."
Encouraging Friendly Competition
A little competition among employees is one of the effective approaches to motivate them.
"A competitive environment = productive environment"
Thus, encourage every employee to engage themselves in challenges or competitions. And meanwhile, it is the duty of an HR manager to ensure that the competition is healthy that can eventually improve camaraderie. At the end of the day, friendly competition is the only key to employee participation and employee engagement.
Communicating Positively
Well, communication is considered the easiest thing to do.
Fact Check– Sometimes it can be the most difficult one!!
But F2F communication can be time-consuming as well. To solve this problem, one can rely on one of the best HR and payroll management software in India.  From receiving announcements to expressing moods, employees will have a reliable medium to connect to their employers. In addition to this, HR managers can also acquire insight from them easily and quickly.
Bottom Line?
Every organization is different and hence these methods may work differently for everyone. But what is more important is understanding the significance of motivating employees and thus taking the necessary steps. If nothing works out, just invest in HR and attendance management software to save both time and energy.
"A great employee is like a four-leaf clover, hard to find and lucky to have!"
Hence, don't lose yours and keep them motivated!