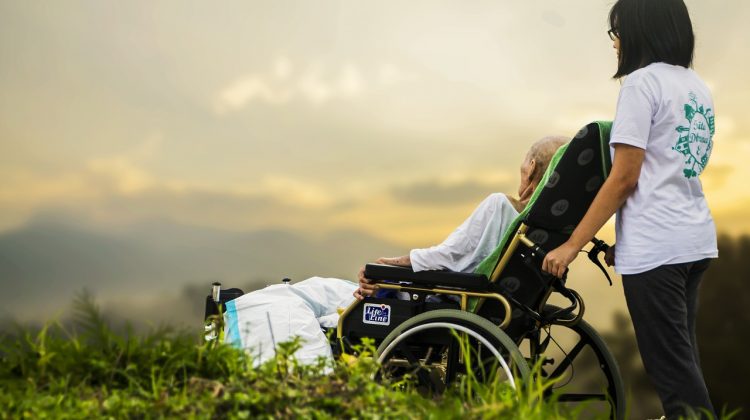 At that stage of life where he is to lose all that he had, ever strived to get, all that his achieved are to vanish the moment he breathes his last. Speaking to such a person is very challenging(Achievement & An Empathetic Approach), especially when neither knows what lies ahead.
People often don't approve of your suggestions and consoling even if you aren't qualified enough for that. And everyone has different criteria to judge that. Change of perceptions plays a massive role in this. 
Sense of Achievement & An Empathetic Approach
The pure sense of empathy has to exist in the one in the situation addressing a person who is in a critical most state. A state unexperienced, unfelt just imagined, which too is difficult having the limited information in that regard. 
Give them hope
And hence we have assumptions of the future. One thing you can make is making the assumption a hope; people go through pain for a better future. A person hands his body to a surgeon allowing him to do what he hates most to be done with his body, knowing how painful it would be. But the point is the hope that it will make things better for him. 
Being careful about not giving false hopes is of utter importance, though. We need to be honest, not makeup things which in turn may just annoy him instead of consoling.
I would say something like "all this pain and sorrows of this world comes to an end someday for all of us, good luck with a better future, hope it's a lot better than what you had till now, you are a good man, you deserve a better life."
Hope keeps you going, keeps you motivated. You need to see the picture where you need to reach to drive you towards it, hopefully. 
Give him courage
You always have been a bold person; you've faced many challenges of this world throughout your life. I hope you'll pull this one off too. Nothing good is easy, but it ends up good.
One thing that everyone requires more than anything else in critical times is the ability to face that situation, look right into the eyes, and maintain the brain's ability to think logically. 
Emotions often kill logical thinking capacity, and you in that whirl of an emotional ride are in no position to make a decision, the right one at least.  
Try to decrease the sense of loneliness.
You had quite a journey, a beautiful life. I see how much your family loves you. You sure were an exceptional figure for all in your life. Many of your loved ones will be waiting for you on the other side of the world. And yeah, wait for me when you're there, sooner or later, we're all going to meet each other.
Empathy, the ability to step into a person's shoes, or I'd rather say to step into the person's heart is amazing. It's the very humane thing that gives you the taste of being a human being in real sense. Imagine the world filled with empathetic people, is that what they call heaven?
Keep him Preoccupied with the topics that he loves.
Don't let the person unattended, and he might get into overthinking, and this might hurt him. Speak about the good things he has done, the good old memories, make sure they are the ones which he cherishes.
This is why two people act entirely differently in the same situation. Some can cope with pain in a better way; some can't even manage happiness. 
What we mustn't say: (Achievement & An Empathetic Approach)
People get obsessed as to what to speak, and they might just overdo it, which is disastrous. The most important thing not to talk about is death. Don't keep reminding the person that he's going to die.