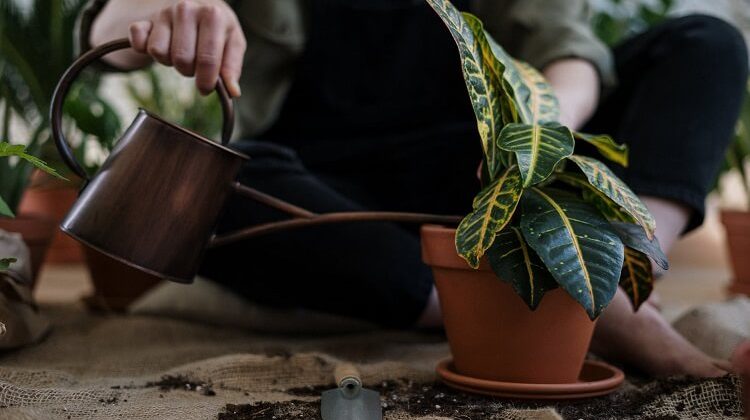 You don't have to have a green thumb to know that the majority of plants need water, and the easiest way to care for them is to keep a watering can handy at all times as a reminder. A decorative watering can be placed on a garden bench, outdoor table or indoor countertop will make taking care of your plants a breeze. Plus, indoor watering can doubles as a pretty accessory so you can add visual interest to a living room, kitchen, bedroom, or office.
Best Decorative Watering Can Options for Gardeners in 2020
Trendy watering cans that are designed to be as pretty as they are practical. Use watering cans for indoor houseplants or for tending to your patio or porch planters.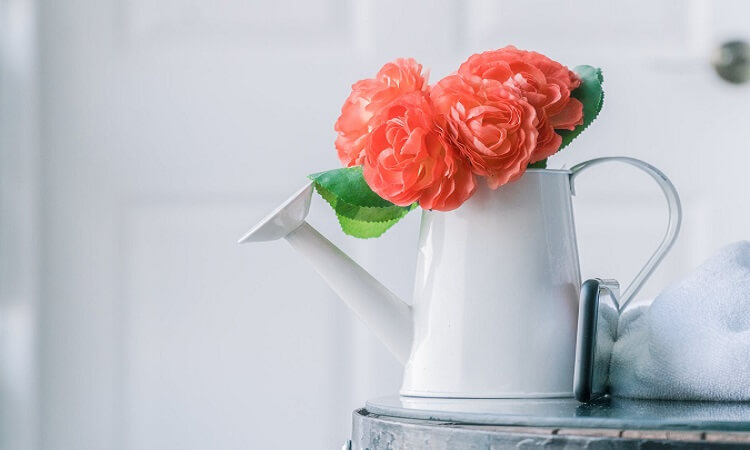 Keeping a full watering can handy serves as a subtle reminder that all things grow with love (and water)!.
Stainless steel with a gold or rose gold metal finish
Not only are these pretty stainless watering cans functional, but they can also double as decorative garden items shining brilliantly on an outdoor table or in an office on a desktop or bookshelf.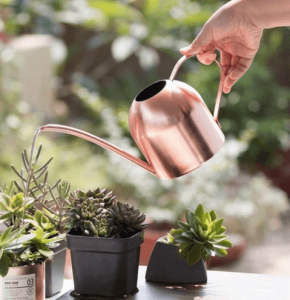 With an extended spout, this stainless steel kettle watering can is ideal for reaching into dainty terrariums or reaching up into hanging baskets. With a sleek look and elegant gold or rose gold metal finish, this pretty little watering can is lovely enough to display amongst a vignette or pots and planters.
Add a touch of class with a touch of brass
This retro-style plant spritzer was a staple in every plant lover's home throughout the '70s and '80s. With a shiny exterior, a ring for your finger, and a pump for your thumb, this watering can is the tried and true method of spritzing houseplant leaves.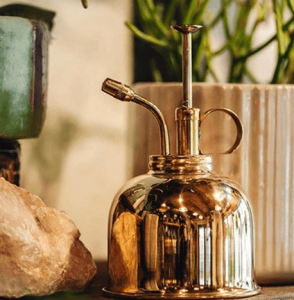 Today, the vintage brass watering spritzer is still a stylish and practical tool to keep beside your plants, ready to give them a fine shower. Spritzing plant leaves removes dust and increases humidity, on which plants thrive. The healthier your plants are, the healthier your environment is since plants help to clean the air you breathe. While your plants are working so hard for you, why not show them some love with a regular spritzing.
Dynamic Duo watering tools
This watering toolset includes two plant care essentials–a sturdy plastic watering can with printed measurements and a handy spray bottle for cleaning plant leaves.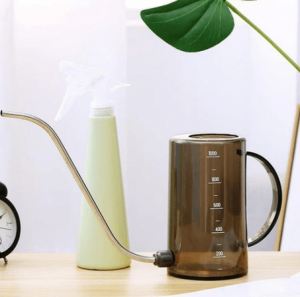 The watering can feature an elongated stainless steel spout for reaching down into pots or up to hanging baskets. The plastic spray bottle is perfect for spraying and cleaning leaves as well as keeping dust and insects away.
Mod Ceramic Vases
With unique handles and artistic style, any vase or vessel that can hold water can act as a watering can. The chic and colorful ceramic vases shown here bring an artisanal touch to the table (shelf, dresser, or fireplace mantel) and can be showcased alongside your flower pots. Fill them with fresh water and give your smaller houseplants a drink. You can create a pretty grouping of vases and potted plants that add visual interest to any room. Group them together with some greenery for a creative tablescape or along a fireplace mantel for a pop of color and mix of shapes.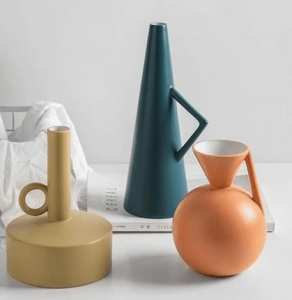 Are you looking for more ways to decorate with houseplants and watering cans? Pop some plants and a watering can in a bathroom, living room, kitchen, office, or bedroom, every room benefits from plants. Keep a watering can nearby. It only takes a few seconds to water a plant, but it's easy to forget about watering when you don't have a watering can on hand.
Did you know that an indoor watering can also be repurposed once it's had its day? It can be turned into a decorative home accent as well as garden art. Use a watering can house a plant or pop some pens inside and use it on your desk. There are so many unique ways to reuse your watering cans. Even the smallest watering can offer the ideal home for a tiny succulent. Get creative by using old watering cans as decor.
Conclusion |  Best Decorative Watering Can Options for Gardeners in 2020
Discover beautiful watering cans designed to suit your gardening needs as well as to offer a decorative touch. Even stunning vases and pots can be used to water plants.  So there really is no reason to be tossing out dried up houseplants. Happy gardening!