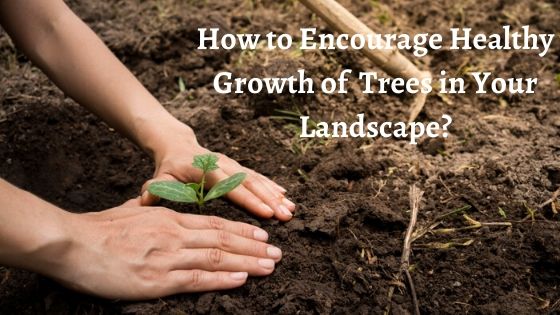 Growth of Trees & Healthy trees can withstand adverse weather conditions. For instance, pine can live thousands of years and can easily handle bad weather conditions. Some trees are beautiful and we want them in our yard. 
Trees with good health and strong structural integrity can be planted in our yard and we can enjoy their beauty for several years. 
Healthy Growth of Trees in Your Landscape
Some trees are not structurally strong and they need special care. Therefore, some people are searching for some tips to improve the health of the trees that are in their yard. In this post, you will find the secret tips to restore the good health of trees. Have a look!
Choose Right Place to Plant the Trees
You should pick the right tree that can grow well in your area. After that, you should search for the right location where your plant can receive a good amount of sunlight. Also, you should ensure that your tree will have enough space for future full-grown canopy. 
In addition to this, you should also ensure that there should be no power lines in tree surroundings. The last thing that you need to consider is that you should not plant trees too deep. It is so because the trees that are planted too deep cannot access the required nutrients and water. 
Provide a Good Amount of Water for Growth of Trees
Trees also need proper care just like all other plants. If your area has not received rain in the last few weeks, then take out your garden hose and start water trees in your landscape. In most cases, the full-grown tree needs less than one inch of water in one week. 
On the other hand, young trees need 4 to 10 gallons of water per week. The trees also need proper water for healthy and good growth. It is very important during the first growing season of the tree.
Appropriate Mulching
The mulch forms a boundary for the prevention of tree roots. The mulching can prevent tree roots from a big problem. It protects tree roots from a lawnmower and helps to retain good moisture in the soil for the healthy growth of trees. 
There are enormous benefits if tree mulch, therefore, you should remove the grass under the tree and spread wooden mulch around it. You should spread 2 to 4 inches of mulch around the tree. But you should carefully spread the mulch around the tree. You should not tree trunk with the mulch.
Apply Fertilizers
The forest trees use natural dead plant material to feed the tree soil around. In our yard, we take away dead fallen leaves and branches. Therefore, the trees that are in our yard cannot use natural plant material. We should look for alternate solution-fertilizers. Fertilizers can solve the problem. 
You should use slow-release fertilizers so that they can provide the necessary nutrients to your trees. In addition to this, you should also test your soil to check that it contains all essential elements in the soil. If there is an element that is not in an adequate amount in the soil, then you can supply that nutrient synthetically.
Tree Trimming & Pruning
For healthy tree growth, tree trimming and pruning play an important role. Appropriate tree pruning and trimming can help in maintaining good tree structure and remove dead and infected branches of trees. After tree pruning, healthy growth of the tree will be restored. But tree pruning and trimming need special tools, skills, and knowledge. 
Even a single bad cut can affect tree health. You should hire experienced tree service providers so that proper tree trimming and pruning can be done. During summer, you should focus on removing dead and damaged branches of trees.
Hire Experienced Arborist
You should mark the dates on calendars for the annual checkup. After that, you should book an appointment for an examination of trees in your yard. The experienced arborist such as arborist Sydney can easily inspect the signs of infection and tree diseases. Early detection of tree diseases can help you to prevent the tree. 
The experienced tree service provider can determine the health of the tree by examination of tree leaves, holes, canker, etc. After a thorough examination, they will make a plan to prevent your tree and improve its health.
Final Words | Growth of Trees
The trees in the forest can grow well because they take the necessary nutrients from dead fallen leaves and tree branches. But, trees in your landscape need more care for their proper growth. We have to provide fertilizers so that they can access the required nutrient. 
You should pay attention to proper water, mulching, tree trimming, and pruning. In addition to this, you should also hire an experienced tree service provider that can examine your tree health.