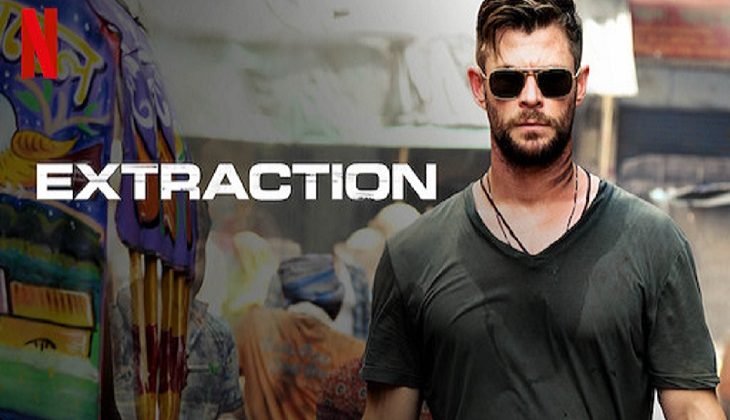 Extraction is one of the latest Indian movies released in April 2020. This is a gift from Sam Hargrave to the audience Hindi movies with action & One of the Finest Hollywood movies.
One of the Finest Hollywood Movie
No, it's not wholly Hindi movie the language used in English, but it is entirely shot in India. Some of the parts of this Hollywood movie has shot in Thailand. Here we go, Finest Hollywood Movie.
Plot
Tyler Rake, who is presently a hired soldier and was an ex SARS operator, is sent to salvage the son of India's most wanted crime mafia, Ovi Mahajan Sr. Ovi 's was grabbed by his dad's opponent Drug ruler of Bangladesh named Amir Asif. When Ovi was extracted from Dhaka, the dealing party who was responsible for paying money to Rake refused with arrogance. On the other side, Mr. Saju Rav, who was a former Para Commando, was sent to extract the kid so that Ovi has not to pay the money to the mercenary.
All the exit points after the extraction are sealed, and also the rescue team of Rake was also killed. However, at last, after a lot of hustle, Tyler, with the help of Saju, made it to Mumbai(India) with Ovi being safe.
IMDb – 6.7 / 10
Director – Sam Hargrave
Celebrities in Focus
Extraction is an American Movie, but it was released in India in Three languages that are Hindi, Bengali, and English.  It has a mix of Bollywood and Hollywood celebrities working together to pull out a great picture.
Some of the celebrities who were the center of focus were:-
CHRIS HEMSWORTH – Tyler Rake (Hired soldier)
PANKAJ TRIPATHI – Ovi Mahajan Sr. ( Crime mafia of India)
RANDEEP HOODA – Saju Rav (Para S.F)
Creating a bang on digital streaming platforms
The movie extraction was streamed on various digital platforms such as Amazon Prime,  Netflix. It received 3.3 stars rating out of 5 on Amazon Prime.

Now comes the most awaited news. In the past few days, Netflix released the list of TOP 10 MOVIE, WHICH ARE WATCHED THE MOST ON IT'S PLATFORM. And as a surprise to everyone, "Extraction" was at the top of the list.

It was a surprise because despite have a low IMDb rating. It was streamed for the highest number of times.
Controversies
Extraction met a lot of Criticism for its action directed stunts and portraying the overall picture of a country.

The largest-selling English newspaper in Bangladesh "

the daily express"

wrote that the movie portrays the image of Dhaka as Black and inaccurate.

Bangladesh's movie critics also complained that the crew of Extraction did not do much homework and alleged that the yellow filter used to show Dhaka is wrong.
Did You know?
TITLE OF MOVIE CHANGED MANY TIMES –

It started from setting the Title to "Dhaka," but as it might create an impact on Dhaka to the viewer, so it was changed to "

Man on Fire."

It was kept to "Extraction."

ORIGINAL MOVIE SETTING WAS IN SOUTH AMERICA

 – Initially, the movie was to be shot in South America. But as South America was previously many times used to showcase various crime-related movies, so an Asian Country Bangladesh was chosen.

THE FIRST MOVIE OF HARGRAVE AS DIRECTOR –

Sam Hargrave is the all-around stunt coordinator in almost every Marvel movie. The relationship with Russo Brothers continued while directing his first action movie, which got a great appreciation worldwide.
You haven't seen it yet, and then this can be a massive entertainment for you. After watching Chris in Avenger Endgame, it has been a while we have seen an action movie about him. The best thing about this movie that the plot is from India. The trailer had told pretty much about it, but if you watch it, then you will going to shock with the details used in this project.
Final Line | One of the Finest Hollywood Movie
Two major stars of the movie Chris Hemsworth and Randeep Hooda, congratulated the whole crew of Extraction on twitter after reaching the pinnacle mark of a most-watched movie on Netflix.