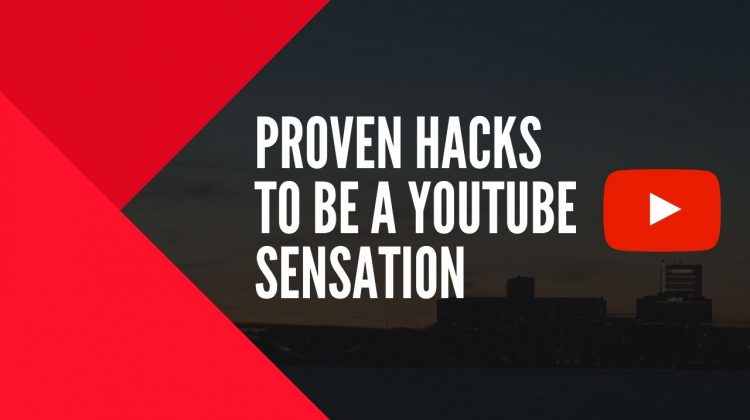 YouTube is the second world largest search engine after Google. It is also the biggest video sharing platform in the market right now. Its platforms to connect with your consumers, YouTube is perfect.
YouTube and become a YouTuber, you need time, patience, and hard work. Being a YouTuber is hard, no matter whether you have a pre-existence brand or not. It requires constant brainstorming for new ideas that your customers will like and share.
You have to work on your video's theme, editing, content, characters, and so on. It is not easy to reach a good number of subscribers. But when you do, you get good sponsorships and opportunities as well, making decent money is a bonus.
In this article, we will share 8 hacks that can help you become a YouTube sensation. All these hacks will help you generate more subscribers and followers, which is necessary for making your video go viral on YouTube.
Hacks to be a Youtube Sensation
Use the written transcript for a video
You might need the written transcript of your video for an end number of reasons like to use the line from the video to use as a caption or so on. Now, listening to the video minutely to figure out the words can be time-consuming.
Now, your social media marketer might need those text for promoting, and they can pick these words out with ease. It is because YouTube generates a transcript for all videos.
To do this:
Go to the video you want to the transcript for on YouTube. Click on the CC/subtitles icon beneath the play button. Choose the language that you have used in your video. Now, you can add these subtitles in four ways:
You can upload the transcript as a type of file

You can paste or type in the video's transcript and the timings for subtitles will be set automatically.

Type the subtitles or CC while watching the video

Hiring a professional transcriber to do this.
When you add a description in your video using a transcript, it ranks better on Google. Also, when you add subtitles in your video, even people who don't understand your language can see and enjoy your video.
Turn your video into a GIF
You need to promote your YouTube on other social media platforms to get more customers. One way you can do this by posting a short video of the whole video on YouTube. The other way is to use GIFs. It is quite a popular way to appeal to people towards your post and video.
Also, it is quite simple to create a GIF using the video itself. Here's how:
Select the video's URL that you want to convert into a GIF

Now, write the word GIF before the domain name starts. So, it will be like www.gifyoutube.com/videoname.

It will bring you to the site gifs.com, where you can see your video already in the process of editing.

On the left-hand side, you will find tons of menu and a timeline bar.

Here you can edit, add a caption, set the duration of the gif, and so on.

On the top-right, select create a gif. It will ask for a title and set it.

After clicking next, you have the gif that you can share on your socials.

To download it, you would need to sign in to

www.gifs.com

.
Add card to your video for better engagement
You don't want people to watch your one video and move on to other channels. You want them to watch other videos in your channels, and so on. The more videos that they see, the more time they will spend on your channel and Google will rank it higher.
Thus, to boost engagement, you need to use cards. Cards lets you add small frames showing more videos on your channel, and even poll, and so on.
Here's how to do it:
On your channel icon, select creator studio

On your YouTube homepage, go to the far left and select the option of video manager.

Now, select the video on which you want to add the card and click on edit

Select add card button, and choose the card that you want to add in the video

After creating the card, you can move it to the place you want to.
Read More: monetize your website
Create a custom URL for your channel
Having a customized URL for your channel provides a smooth experience to your fans and followers. To do this:
Click on the settings icon and select advanced which is beneath your account name

If you are eligible for a custom URL, you will see 'you are eligible for custom URL' prompt

A URL that Google has approved will show up

Click on 'claim here' and agree to the terms and condition

If you are satisfied with the URL, click on confirm.
 

You are eligible for custom URL if:
You have more than 100 subscribers

Your channel is 30 days old

You have a channel icon and art.
Pro Tip:
To make your video look good and attract more and more traffic. You need to make your youtube thumbnail appealing. Try Canva to make youtube thumbnail.
Which of these tips you didn't know? Which is your favorite? Tell me in the comments below.