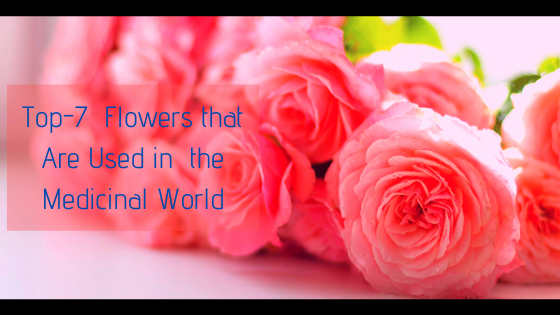 Flowers play an essential part in human life. Their exquisite elegance and alluring scents fascinate us. Flowers are nature's best gift to us, making man happy, joyful, and possessing some peculiar characteristics as well. Flowers have their language as represented by colors, delicate blooms, etc. Not just this, flowers are also the best gift that you can give to your dear ones on any occasion for expressing love and care. 
Flowers that Are Used in the Medicinal World
Well, having a variety of flowers around your garden is a beautiful way to add color and life to it. Not only will they help attract beneficial pollinators, but growing a variety of flowering plants also improves your health. We have compiled a list of medicinal flowers that are beneficial for your health along with providing an aesthetic appeal. 
Rose
Being so stunning, Rose helps relieve stomach pain, diarrhea, and used as a folk medicine for cancer treatment. Rose hips are the fruits of roses, which are the best source of vitamin C used to make jams, jellies, and also tea brewing. They also relax the nervous system, lift the spirits, and make your heart sing. Roses are also used for making beauty products and helpful for the skin as well. Roses also make the best gift for your beloved and you can send a bouquet of roses online on his/her birthday and make them feel very happy. 
Sunflower
Helianthus or sunflower mainly cultivated as food crops for humans and as ornamental plants in gardens. The edible medicinal plant with seeds and flowers are a good source of phosphorus and contain minerals which are beneficial for your health and helps reduce blood pressure and supports bone health.
Hibiscus
The tea made from this genus is best known for its distinctive color. Once dry, the tropical red hibiscus flower adds a dark pink color to any tea that it graces, where the pink and red remind us of love and heart, which is fitting. Hibiscus is very healthy for our circulatory system, and studies have shown that the flowers are successful in lowering blood pressure and cholesterol numbers.
Begonias
A mixture made by soaking the Begonia flowers in hot water helps reduce headaches and get rid of toxins in the body. You can also rub the broken flowers directly on the skin to help relieve discomfort and heal sores or burns. Begonias are rich in vitamin C. It is also used to treat problems with the stomach, and to reduce spleen swelling. People likewise use Begonia leaves as a cold tea. The sap is used for wounds, and concoctions for cough, consumption, and fever. So, if you want to get these benefits of this flower then you can order flowers online through online flower delivery in Chennai and get it at your place. 
Lotus
For their effectiveness on fever and more severe diseases like cholera and bronchitis, this flora is famous in both Eastern and Western cultures. Floral medicine provides much relief for bad coughs. Its root consists of both fiber and complex carbohydrates. Those two things are working well to help manage the cholesterol and blood sugar in your body. People in Asia use lotus plants for cooking, baking, and adding flavor to drinks. It contains therapeutic elements that lower the swelling, kill cancer cells and bacteria, reduce blood sugar, help with a fat breakdown, and protect the heart and blood vessels.
Cornflower
Cornflowers are used in modern times as a cure for eye swelling, puffiness, and eye-related discomfort. Rub the cut-end of a Cornflower stem on the affected area to be used for cuts and scrapes. On the other hand, it's also beneficial for acne or facial skin eruptions. Flowers and leaves are used as a steam facial.
Orchid
Orchids are commonly used in fragrances and help to protect the skin from stimulating conditions found in the environment, while also renewing and hydrating. Because of its defensive and regenerative properties, this plant has long been known in Asia as a beauty staple and is now finding its place in most of the mainstream products that promote skin beauty.
These are some flowers that are very beneficial for our good health. I hope you guys will surely like this article and gain some new knowledge about flowers. You can also order flowers online and send it to your dear ones across India.