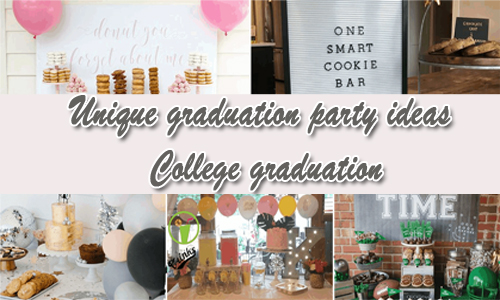 There are ages where we denote the transitions- in body, in life and in career. After school, we all become impatient to join college. The college has always been a dream for the adolescent. They think there is something heavenly in the college and none can enjoy it before one gets in. And once we get in, we do not even feel how the three years pass in blinks. And you become 'graduate' as well. And to celebrate this achievement, here are some unique graduation party ideas to celebrate college graduation.
Unique Graduation Party ideas
Rose Gold Backdrop
In a graduation party, there has to be something to celebrate it in a unique way. A place for the unique photo session with the graduate or graduates is must to make special memories. A rose gold backdrop is the new trending photo booth for graduation parties. There will be hanging rose golden fringes with peach colour balloons atop them on a beam. Besides, there will be the year number of balloons stood aside. There will be scattered balloons with graduation caps attached to them. You will get special graduation balloons from balloons delivery USA sites.
Tassel Garland
What makes the tassel more significant in the graduation ceremony? It is the graduation cap tassels. The tassel at one side of the top of the hat makes it the symbol of joy and success. You can make that tassel the symbol of celebration as well in the party. First, for that, you need to buy many colouring tissue papers. Then with designer blades, tear them from one edge to the half or 3/4th and then flip it around the hooks and hang it or stick it to a different area of the party hall. This will be a very significant graduation party decoration ideas ever.
Graduation Balloons Centerpiece
Balloons have always been a symbol of joy and happiness. Celebration of graduation is one happy and successful ceremony. Balloons play a very important role in graduation parties. And as there are varieties of usage of balloons, you can easily decorate the whole graduation party with balloons only. You can make welcome arches, balloon sticks, fall ceilings and photo booths with varieties of balloons around. Colourful shaped balloons and number balloons with also help you to denote the year to remember in the photos. Thus balloon can be a very active part of this celebration.
Graduation Bunting Banners
Graduation is one of the greatest achievements in life. And the best way to celebrate the achiever is to make graduation bunting banners. You can make it with colouring cut papers and colouring piece of clothes as well. You could write messages like 'congratulations', 'we are so proud of you' and all. Such a banner can be hanged either at the entrance of the party hall or on the beams of the photo booth. This banner will win the heart of the achiever and it will become better if it is a surprise graduation party.
Graduation Photo Booth Prop
It is equally important to get some themed graduation photo booth props too. There are many of them available in the online gift shop. There are nerdy false glasses; there are grad caps and book props. Also, there are many others like grad coats and false certificates. It is all about the photos. Nothing else remains forever. So, make it as colourful and enjoying as possible. And with all these balloon decors at home, such will be a grand celebration of graduation.
Confetti Banner
Graduation banners are also similar to that of graduating banners. But this one made of colourful confetti. Confetti made of colouring paper structures brings new essence in the party. In the banners, the part that confetti plays in is the sideline decors. To make the party a glossy look, you can use glitter papers to make confetti. A confetti banner can be for all the graduate students with a congratulations message. And is it their party, it is important that we should give all the attention to the achievers only. DO not forget to order kinds of stuff from graduations balloons delivery sites.
Graduation Party Drink
Party celebration and the drinks have to go hand in hand. Or else, you can never say you had a blast of parties. And as it is a graduation party, everyone is adult and of drinking age. Usually, cocktail bars will make it a good party corner. And as they all are teenagers, a lot of breezier and beers must be there.  Such a party will make an amazing celebration of achievement in life as well as in a career.
Graduation is one of the first step celebrations of life denoting many more to come. Above are the best ways to celebrate a graduation party.