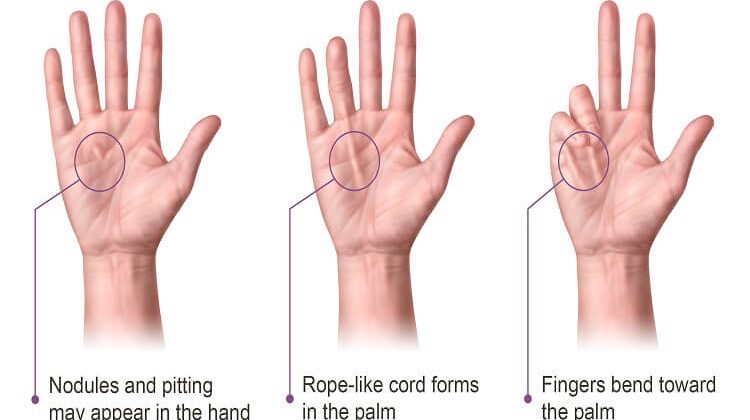 Dupuytren's Contracture is a condition that hinders the normal functioning of your hand. It causes great discomfort due to the restricted movement of the little and the ring finger. Read the article to know the risks and causes of Dupuytren's Contracture.
What are the Causes and Risks of Dupuytren's Contracture?
Introduction
Before finding out the potential risks and the causes of Dupuytren's Contracture we first need to understand what happens in this condition?
In this condition, the loose and flexible tissue beneath the skin of our palm and fingers known as fascia becomes tight and thick. This affects the little and ring finger causing them to curl inwards.
This condition is not very painful but it causes a great deal of discomfort. This is because it restricts the movement of these fingers causing difficulty in performing simple tasks. The affected fingers cannot be held straight. This hinders our everyday activities like holding things, writing, tying knots, shaking hands, etc.
Now let us take our discussion further towards what causes this condition?
Causes
What causes this condition is a mystery which is yet to be solved. All the available evidence points towards genetics as a key factor. This means that a person belonging to a family having a history of this condition is more likely to suffer.
Anecdotal reports suggest that an injury or a surgery in this particular area of the hand can also cause or worsen Duputren's condition. It needs to be clarified here that there is no reported proof available to support this. Also, it is believed that overuse of the hand causes it but again no evidence supports this argument.
Risk Factors
Though not much is known about the causes of this condition certain risk factors can develop or increase the effect.
Gender-

 When it comes to gender, men are more likely to develop Dupuytren's Condition than women.

Background-

Over the years of observation on this condition, it is found that people belonging to the areas of Northern Europe are highly likely to develop Dupuytren's Contracture.

Heredity-

Observations state that people belonging to a family are likely to develop this condition.

Alcohol-

It is found that alcohol and its consumption have a direct association with the development of Dupuytren's Contracture.

Age-

Another important observation is that people belonging to an age group of 60 and above are more likely to develop Dupuytren's Contracture.
How can you treat Dupuytren's Contracture?
Light or feeble impacts of Dupuytren's Contracture do not require any treatment. Only cases in which the condition progresses with the time need treatment. A simple treatment that can also be done at home is by simply removing the cord that pulls your fingers towards your palm. This can be done by anyone of the following methods:
Needling-

In this method, all you need to do is insert a needle and break the cord that pulls your fingers towards the palm. You need to be very careful while using the needle because it may damage tissue or tendon.

Inserting Enzymes-

Another simple method is by injecting the enzymes that can soften and weaken the troublesome cord. Once the code becomes weak, a doctor can easily manipulate your hand and completely remove the cord.

Surgery-

Another option that can be helpful in this situation is going for surgery. Surgery to remove the tissue that is affected by Dupuytren's Contracture is the best and a long-lasting solution. The only disadvantage that comes with this method is the physical therapy needed to recover after the surgery.
You can go for any of the above mentioned Dupuytren's Contracture Treatment after considering the severity of your condition.
Apart from these traditional treatments, you can also use modern and more efficient Duputren's Wand and Duputren's Tape to help yourself. You can make use of Dupuytren's Tape to help you straighten your fingers and gradually restore the lost ability of motion. It also helps you increase the range of motion of your fingers.
The best part of this Dupuytren's Contracture Treatment is that it is easy and more efficient than traditional surgeries. 
Conclusion | What are the Causes and Risks of Dupuytren's Contracture?
Hopefully, this article was a great help. This article will help you to discover a healthy way of living life! A considerable proportion of people suffer from Dupuytren's Contracture each year. This condition usually occurs in people age 60 and above. Different factors cause this condition.
You need to follow a healthy and efficient lifestyle to avoid this condition in the later years of your life. Make sure to take proper measures of all the causes that are mentioned above in this article. Proper care and proper measures can help you avoid this condition. Also, make use of Dupuytren's Tape to benefit you from the ease and efficiency of this Dupuytren's Contracture Treatment.