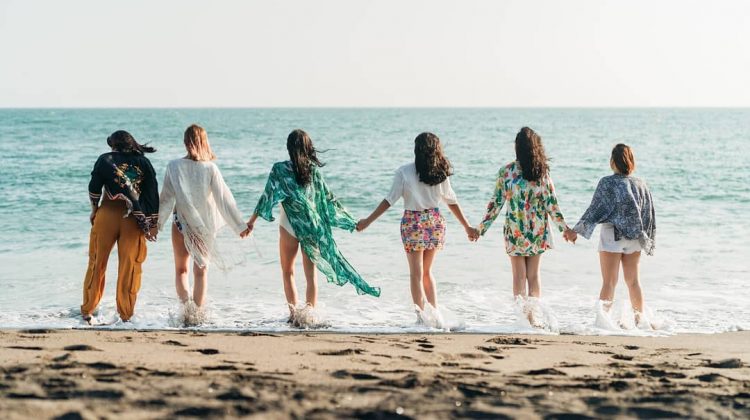 Ever thought about a getaway with your girl's squad? If not then it is the right time to think about it and plans a trip with your girls. So this women's day pack your bag and go exploring the exquisite Island of Gods i.e. Bali with different colours with your girl gang.
Bali is green heaven, a paradise for food lovers, a photographer's dreamland, and a perfect place for vacation. From the lush jungles, cultural and spiritual environment to pristine beaches and vibrant nightlife this place has an uncountable number of things to offer. It is a place this will never fail to amaze you or your group.
You should take an all-girls trip to Bali this women's day
Here are the number of places that will answer your question of why you should take an all-girls trip to Bali-
Start the vacation with Hindu shrine built 500 years ago known as Tanah Lot means Land on the Sea. You and your girl gang will be in awe to view the scenery unfolding in front of your eyes. You will feel the spiritual power like never before. The shrine is the collaboration of Hindu and Balinese mythology. Along the Bali coast, there are seven beautiful temples. It's one of them. Because of its place in water, it's famous as a photographer's paradise. In Fact, you can also see the Uluwatu temple in the south and azure waters in the west. 
Next on the list is an elephant cave which is famous as Goa Gajah, around 6km far from central Ubud. Here you will be welcomed by none other than a wide-eyed demon staring at you. Well, this might sound scary and thrilling at the same time. It's a must-visit destination. Here your girl gang will be rewarded with the architecture and heritage of Indonesia. From here you can also visit Garuda Wisnu Kencana Cultural Park, which is mainly devoted to Lord Vishnu and Garuda. Eye-catching sight is the 121m tall statue of Lord Vishnu riding Garuda, also happens to be the highest in Southeast Asia.
As the list goes on, here are some places that you will find adventurous if you are up for some challenge. In east Bali, you will get to view the Candidasa, Tulamben and Amed Beach. If you and your girl gang want to take the pleasure of scuba diving then it just seems the perfect place. You will be amazed to see what the underwater has to offer you. If one of you in your group is a marine photographer then you will be lucky to spot octopus, sunfish, dolphins and many other beautiful and exquisite water creatures in Tulamben Beach. Just 25kms from Tulamben Beach is Amed Beach, beautifully enlightened with emperor angelfish, lined surgeonfish and white-spotted boxfish. On the other hand, in Candidasa Beach, you can see white-top sharps and snappers.
If you want your heart to beat like a leopard, then Bali will give you the chance to do that. Skydiving which will scare the hell out of you will also infuse you with a new daring sense and thrilling experience all your life. Here the popular one is in Kuta, Bali that offers tandem skydiving.
Kuta Beach is the best place to go to. Situated near the Bali airport, it catches everyone's attention with its golden sands and surf waves. Here you will also get accommodation and clubs as per your budget if you want. Its nightlife will get you out of your mind with its vibrant style and loud music.
Looking for a place to surf and chill away from the crowd of the city? Then, Bingin is a perfect place for you! Filled with the most charming resorts by the sea, this is the perfect place to relax. Want to try amazing salad and smoothies? Then visit Sal's and Mick's for the amazing taste.
So shop till you drop, pamper yourself at the luxury spa, go for a walk at the beautiful beach, and taste the mouthwatering Indonesian cuisine. Now, what are you waiting for? Aren't these reasons enough to pack your bag and celebrate women's day in Bali with your girl gang?
Takeover:
We have got exciting Bali tour packages that you can take advantage of. we will plan your Bali tour accordingly.